Posted by The Furgilets.co.uk Team on 3rd Jul 2017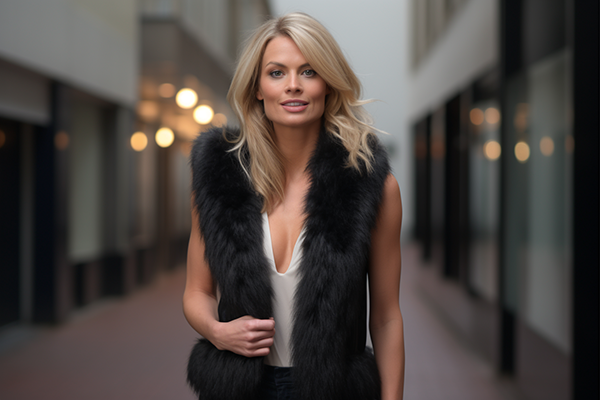 When most people think of purchasing a fur, they automatically assume that the purchase will be rather expensive if they go for real furs instead of synthetic ones. Wearing a fur gilet is a fashion statement, and it does not have to be an expensive one. Truth be told, one fur gilet will last most people a lifetime, so it is a wise investment to consider. There are other reasons to consider purchasing a real fur gilet, and they are as follows: versatility, stylish design, and warmth.
Versatility of Wearing Fur
Many individuals do not realize that furs can be worn with many types of outfits. No longer are furs relegated for fancy occasions like weddings and cotillions. Real fur gilets can be worn with a skirt, a pair of work pants, or even a pair of jeans. The options are limitless. At the same time, there are plenty of fur options out there on the market, so finding an inexpensive, real fur is easy to do. Finding one that compliments most any part of a person's wardrobe is also rather easy. Furs can be made from various animal hides, so this aspect opens up the fur world to being worn by many, different people. It will also serve to complement their wardrobe with ease.
Stylish Designs of Fur
Furs no longer come in just waistcoats and shawls or stoles. A fur wrap can be purchased still, and this method of wearing furs is still considered the height of fashion in many countries. However, fur can also be worn as a poncho. This aspect makes the fur easier to wear, especially considering there is not a concern for how to keep the fur closed around the body. At the same time, fur can be turned into many accessories, too. It can be turned into scarves, headbands, bobble hats, and even keyrings. Some people might find the keyring option to be rather attractive because of superstitions about the type of luck they might bring.
Warmth of Furs
Wintertime can be downright cold in certain parts of the year. Historically, people would use furs as a way to keep them warm against the elements. Much the same can still be done today. Layering furs with other garments make the fur look all the more stylish as it can be tied into working with almost any outfit. However, furs do not have to be worn just during the winter months. It can be worn on cooler nights throughout the warmer months, and it will serve not to cause overheating. This tactic works because the furs are not layered with as many clothes. They are also super soft so that they will feel rather nice against the skin.
Conclusion
There are many things to consider when it comes to purchasing a fur piece. Thoughts about it being only for the affluent or special occasions are a thing of the past, and everyone should consider purchasing a fur as part of their regular wardrobe. With the inexpensive price of furs and the various design options out there, finding the right one will not be difficult.